We have been blessed to own and breed a pair of this wonderful breed who continue to entertain us daily with their comical natures!!
The English Shepherd descends from the Shepherds' dogs of England and southern Scotland which also gave rise to the modern day border collies; they were also known as the Old Fashioned Collie, Farm Shepherd, Ring tailed Shepherd and Ring Necked Shepherd (ESCBreederinfo.com). They are best known for their ALL-AROUND ability as herding, hunting and easy-going dogs. They make WONDERFUL family dogs and pretty decent chore helpers!!
Our Dam: Macy Mae of Elm Creek (ESCA registered) "Macy"
Ahlers Abe x Ahlers Flossy
2018 ghost tri female; ~55 lbs
Wonderful companion, quiet working dog who loves to have all the attention to herself!

    Macy as a pup (photo by Sheryl Morton)
Macy's parents owned by the Ahler's of Nebraska (both were raised by Badger Hole Ranch):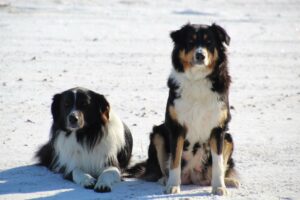 Our Sire: Joshua Deets of Hat Creek (ESCR Registered) "Deets"
(Crosswind Silver x Badger Hole Bonnie of Cedar Creek)
2020 tri color male
"Deets" is N/N for all disorders by parentage; 60 pounds of pure friendliness, loves to cuddle, swears he is a lapdog and will play with our 6 yr old son nonstop! He is more aggressive with livestock than Macy and with consistency will be an amazing stock dog.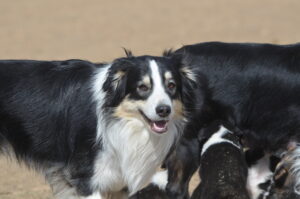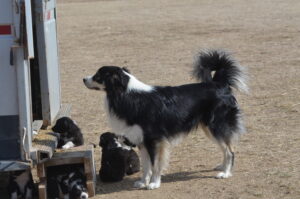 shown as a pup July 2020
The proud parents sad to see their (human) kids leave for school!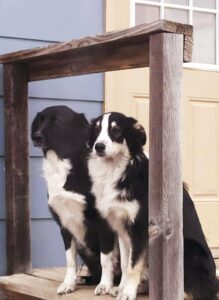 2021 Litter (born 2/2/21; 9 females and 2 males!!)